Romantic Restaurants In Mumbai For Valentine's Day
You could be doing all the right things and yet gain a negative when you step back from taking her to the most romantic restaurants in Mumbai on Valentine's day. Spending the best Valentine's day in Mumbai isn't just another story for her to tell her girlfriends, it is her little fairy tale come true. So, go hit the best rooftop restaurants in Mumbai, romantic places in Mumbai, romantic restaurants in Mumbai or beach view restaurants in Mumbai and fulfil your romantic fantasies.
And yes, don't fret over finding the best place, we have very meticulously hand-picked the best Valentine's day special restaurants to fit every budget.
Spend Valentine's day in a budget at these mind-blowing places that offer you so much more than just-food.
A) Sea view restaurant in Mumbai
1) Bay View, Colaba
Bay View will always top my lists. This is a complete win-win because, with amazing food and breezy roof-top, you get the perfect view of the horizon as it sits in the most celebrated place in Churchgate and faces the sea. It is one of the moods setting places over the Queen of seas. Despite the fact that it is super cheap. One of the cheap rooftop places in Mumbai, yet she is going to go all head over heels!
Cost for two: ₹800
Zomato rating: 3.8 /5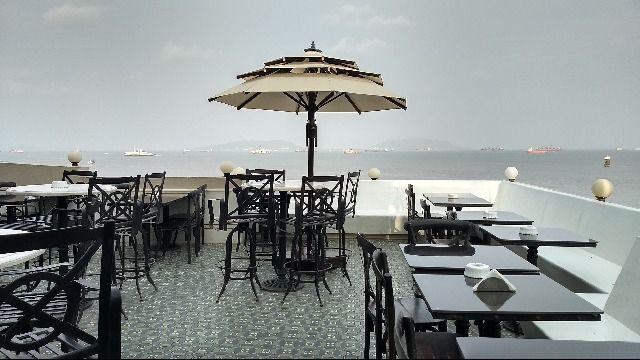 2) Gadda Da Vida, Novotel
Gadda Da Vida is an open-air lounge spread facing the Arabian Sea from where you get an eyeful of the sunset view while romantic live music plays. Enjoy your Valentine's day with cushioned lounge chairs at this chic outdoor seating and serene outdoor hotel cocktail bar. Owing to its reputation, you might spot a celebrity or two. That's why it is one of the best romantic restaurants in Mumbai.
Cost for two: ₹4,500
Zomato rating: 3.9 /5
3) Estella, Juhu
Another celebrity frequented sea view restaurant, designed by award-winning architect Sameep Padora, gives off a whisky-and-jazz vibe. In a super-crowded city like Mumbai enjoy your private space here without worrying about your conversations being eavesdropped by the other guests due to the spatial arrangement.
Cost for two: ₹2,500
Zomato rating: 4.1 /5
4) The Lagoon – Sea Princess, Juhu
Another restaurant by the sea in Juhu, Lagoon is a part of the 5-star hotel Sea Princess. Book a luxury room facing the sea at Sea Princess Hotel, stay, enjoy a buffet breakfast, dine-in at Lagoon, get a free entry to their nightclub, valentine hamper and a discount of 20% on Spa couple massage package.
Cost for two: ₹1,200
Zomato rating: 4.0 /5
5) Bar Bank, Juhu
It's an open space in Juhu opposite hotel Ramada. It is a unique distribution of about 8 to 9 food trucks serving different cuisines ranging from Indian, Mexican to Italian. One place and multiple cuisines to pick from.
Cost for two: ₹800
Zomato rating: 3.8 /5
6) 38 Degree East, Powai
38 Degree East does not garland the Arabian sea instead overlooks Powai lake which is bestowed with immense natural beauty. The best part is like every year, 38 Degree East has come up with special packages for Valentine's eve; Valentine's Candle-lit decor set up with a celebration cake plus heart-shaped rose bouquet and set food menu for two love birds @5000/- All-inclusive on a sky rooftop lounge bar with a live DJ.
Cost for two: ₹1,700
Zomato rating: 3.9 /5
7) Poolside café, Chakala – Andheri
Not by the bay in any way! Poolside Café at Vits offers you a buffet experience by the pool. Enjoy a complimentary mocktail or plan a midnight buffet.
Cost for two: ₹1,500
Zomato r1ating: 4.0 /5
B) Rooftop restaurant in Mumbai:
1) Skyy, Ramada Powai
Indulge in their special Potions of love, filled up to the brim and served all of February! Ramada Skyy would make for a perfect dinner even on non-Valentine days. Their breezy structure, spacious seatings, candle-lit dim ambience, small fountains and live music makes you float in Love! Don't stop loving, celebrate with their Valentine's special cocktails throughout the month. For 14th February 2020, check out their packages that include starters, a lavish buffet, heart-shaped velvet cake, unlimited drinks and live entertainment by Nusrat The Band.
Cost for two: ₹3,000
Zomato rating: 4.1 /5
2) Dome, InterContinental, Churchgate Mumbai
With a Pantheon styled Dome architecture often found in Rome, Dome is a rooftop bar that overlooks the Queen's Necklace. Not that you wouldn't glam-up on your Valentine's special dinner night, but ensure you spruce-up in a well decent attire as they are very particular about it. Matlab Ranveer Singhon ko entry nahi milegi, Ranbir Kapoor bana hoga! Your Deepika being constant, all dolled-up!
Cost for two: ₹3,500
Zomato rating: 4.2 /5
3) Breeze, Powai
Just as the name suggests, her hair is going to be a mess at this place but she will love the breeze playing with her strands. Situated on the 8th floor of Supreme Business Park in Powai, and only one more building in your eyesight, the view of Hiranandani estate from Breeze is spectacular. May his blessings be upon Zomato because of 2+2 on drinks for Zomato Gold members. Ah! Time to see how high you can get in love!
Cost for two: ₹2,600
Zomato rating: 4.0 /5
4) Bandra Vibes, Pali Hill – Bandra
Dine-in at this rooftop restaurant with refreshing fruit flavoured herbal hookah for just ₹999 in the most buzzing streets of Mumbai, Pali Hill Bandra just like the name suggests. It is adequately lit, with the white curtains and décor playing its part. Grab your offer for 50% off on the bill at Dineout now.
Cost for two: ₹1,700
Zomato rating: 3.8 /5
5) The Flying Saucer, Andheri Lokhandwala
Immerse yourself in Love and the flavours of hookah at The Flying Saucer. Contradicting to the name, The Flying Saucer provides birdcage shaped seatings for our love birds to enjoy their private space. As lush green, mangrove colours and many more variants adorn the outdoor seating of the restaurant, it also has glossy interiors, super lit ambience and fascinating bell-shaped lights. So, this place is one of the best romantic restaurants in Mumbai for seating under the sky full of stars with your loved ones.
Cost for two: ₹1,900
Zomato rating: 4.4 /5
6) Koyla, Colaba
With the Shamiyanas, cushioned floor seatings with a low dining table, candle lights, bright ambience and courteous staff Koyla rooftop restaurant is all geared up to set the right mood. There is no love sincerer than the love of food. At Koyla, you will experience authentic food disguised in simplicity, even their green chutney would leave you licking your fingers.
Cost for two: ₹2,000
Zomato rating: 3.8 /5

C) Foodie's Paradise + Romantic Restaurant in Mumbai for Valentine's day
1) Neel – Tote on the Turf, Mahalaxmi Racecourse
Neel offers a perfect culinary experience, a candlelight bespoke five-course meal for you and your significant other.
If a sensory ambience, elegant decor and a menu designed only for you, do the trick for you then this Valentine's Day, state your preferred cuisine, protein, ingredients and flavours and the chefs will curate a 5-course menu specifically for the two of you. Set amidst the stunning backdrop of Mahalaxmi Racecourse and lush canopies, Neel is the ideal spot to celebrate love this 14th February.
Neel also makes the night exclusive by limiting the experience to just 20 couples and the last booking is by 10th February, so be the first to reserve your table for this special night.
Cost for two: ₹1,700
Zomato rating: 3.9 /5
2) 7 Scripts, Kandivali West
Do you know what is better than food? More Food! And what if you are swamped with a wide range of food? Relish seven different cuisines at one place, 7 Scripts. With Valentine's eve being the reason, get a chance to gobble on a special menu curated for a perfect dining experience. Enjoy the benefit of being a Zomato Gold member with a 1+1 on food.
Cost for two: ₹1,400
Zomato rating: 4.1 /5
D) Outdoor-seating restaurant in Mumbai
1) Cafe at The NCPA, Nariman Point
It is located inside the NCPA at the very end of Marine Drive at Nariman Point. Looking over the Arabian Sea on one side, the all-day café transforms into a softly lit haven by sundown, where visitors to the NCPA can meet and soak in the atmosphere, unique to one of the city's largest cultural spaces. It has definitely lived up to its reputation and won't disappoint you either.
Cost for two: ₹1,200
Zomato rating: 3.9 /5
2) Out Of The Blue, Khar
Out Of The Blue is an iconic restaurant that has kept Mumbaikars hearts for the last 20 years. Plus, you don't have to leave that cutie pie of yours at home, Out of the Blue is pet-friendly and permits pets in their outdoor dining area until 8 pm. Also, combine any offer with Dineout Pay to save up to 20% more on your bill and also get 20% cashback.
Cost for two: ₹1,800
Zomato rating: 3.9/5
3) B Desi, Veera Desai Area
B Desi has a unique way of serving their drinks. Enjoy 2+1 on drinks in the fancy bamboo, skull and other differently shaped creative glasses with a live pool table. The outdoor seating is lush with greenery and the trees are adorned with lights making it sufficiently bright. For a dim-lit experience, you can opt the indoor seatings. They almost always have live music being played, so be ready for a perfect insta-worthy Valentine's. Get a discount of 25-30% on total bill with Eazy Diner too. Don't forget to book your table as they are almost full on weekdays too.
Cost for two: ₹1,900
Zomato rating: 4.2/5
4) 1 BHK – Brew House Kitchen Oshiwara, Andheri West
Combine any offer with Dineout Pay to save up to 20% more on your bill and also get 20% cashback at 1 BHK – Brew House Kitchen. They pay very close attention to their presentations. A good vibe, great food, boasting indoor/outdoor seatings, pretty presentations demand this place be renamed as instragammable.
Cost for two: ₹1,600
Zomato rating: 4.2/5

E) Restaurant a little away from the Western Suburbs
1) The Shelter Farm Owale, Thane West
Not forgetting readers on the outskirts of Mumbai, The Shelter Farm adds a natural essence with the farm ambience to the outdoor seating. They have live music played for your delight. The showstopper is their Wine Fest that commenced on 2nd February. Indulge in grape stomping, fine wine and fabulous food at just ₹999. For reservation, contact them – 9803250325.
Cost for two: ₹1,300
Zomato rating: 3.9/5

2) Hog Taproom, Chembur
Hog presents romantic Bollywood songs, couple games, couple dance and prizes for the best couple on Valentine's eve. 2+2 on drinks with Zomato Gold, replenish your thirst from their wide range of craft beers.
Cost for two: ₹2,000
Zomato rating: 3.8/5
3) Boardwalk Flamboyante
If you are a native Mumbaikar, planning a trip to the outskirts is natural. If you are heading to Alibaug for 14th February, ensure you plan a romantic date on Valentines this year at Boardwalk Flamboyante and dine by the bay. Mesmerize in the blue and white décor, after you have given sufficient time to her eyes of course!
Cost for two: ₹2,000
Zomato rating: 3.9 /5
4) Lord of Bar-B-Que, Thane
Enjoy a Lovey-dovey brunch with a love cake, candle-lit dinner and a special menu just at ₹849. Ladies, a complimentary glass of wine or Sangria for you. Choose your poison!
Cost for two: ₹1,600
Zomato rating: 4.3/5

5) The Dansing Bottle, Thane West
The Dansing Bottle invites you to express your love with unlimited music, dance and food with your partner on Valentine's day on the tunes of your favourite Bollywood and commercial music by DJ David.
Cost for two: ₹1,800
Zomato rating: 3.9/5
F) Luxury restaurant
1) Jamavar, Leela
With Dine Out get a 50% off on the bill or 1+1 on the set menu @ Rs. 4400 AI for two. Relish a free glass of wine per person with authentic Malayali and North Indian food. For a range of Indian cuisines, Jamavar, Leela is the perfect place. Yes, this place is not cheap but then so isn't Louis Vuitton!!!! The finer things in life never are. That's why this is one of the luxurious romantic restaurants in Mumbai.
Cost for two: ₹4,500
Zomato rating: 4.0/5
2) The Brasserie, Hilton Mumbai
The Brasserie serves a fantastic ambience. Avail a 1+1 on Buffet with Eazy Diner and don't fall out of options this Valentine's as at The Brasserie your options range from regional to continental.
Cost for two: ₹4,500
Zomato rating: 4.0/5